GemSelect Newsletter - Cleopatra's Jewels and Precious Love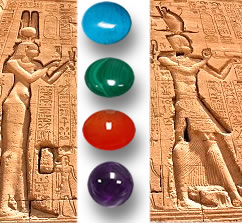 Ancient Relief of Cleopatra and Caesarion
Cleopatra's Jewels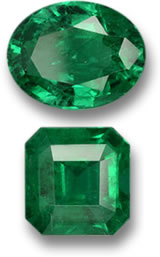 Zambian Emeralds
With the month of February comes one of the biggest celebrations of romantic love; Valentine's Day. Therefore, it is appropriate to present a story of love. One of the greatest love stories known is that of Roman ruler, Mark Antony and Egyptian queen, Cleopatra VII. Theirs is a true story that has been written by William Shakespeare and rewritten as a movie starring Elizabeth Taylor and Richard Burton, who were having a romance of their own at the time.
Legends of Cleopatra are full of descriptions of her beauty, charms and jewels. She was depicted on an ancient coin wearing an elaborate diadem and pearls around her neck. According to one story, she once swallowed a dissolved pearl to prove to Mark Antony that she could host the most expensive meal in history. Other tales refer to "Cleopatra's Mines", which were in Wadi Gamal. The very first known emerald mines were in Egypt, in Wadi Sikait in the Eastern Desert. This area was called "Mons Smaragdus" by the Romans, meaning "Emerald Mountain". Cleopatra was said to have loved emeralds and adorned herself with them. The Egyptian queen was also said to have presented emeralds carved in her image as gifts.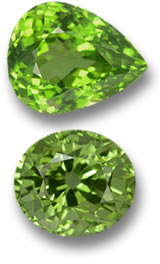 Peridot Gems
Some believe that Cleopatra's emeralds were not emeralds, but were actually peridot gems. Peridot was mined from the volcanic island of Zabargad (St. John) by the ancient Egyptians and peridot gemstones have been confused for emerald in the past. Since there is little archaeological evidence of Cleopatra's jewels, it is difficult to judge her collection. Among the other materials mined in ancient Egypt were malachite, turquoise, carnelian, amethyst and, of course, gold.
Cleopatra's story is not one of an easy life of luxury; after her father's death, she was made queen along with her brother, Ptolemy, to whom she was married at the age of 17. However, her brother attempted to kill her, so she fled the palace and returned with an army. Cleopatra and Ptolemy's power struggle coincided with Julius Caesar's own struggle against Pompey, and Ptolemy's treatment of Caesar led him to side with Cleopatra, who became sole ruler when Ptolemy was killed in battle. Caesar was charmed by Cleopatra, who bore him a son, but the Roman senate grew fearful of Caesar's power and he was assassinated. Rather than give in to her grief, Cleopatra had her younger brother poisoned to ensure the place of her son in the palace.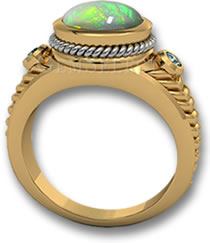 Modern Opal Ring
The Roman Empire was divided into East and West, with Octavian ruling the West. Mark Antony was the leader of Eastern Rome and he sought a meeting with Cleopatra who captivated his heart. He presented her with beautiful gemstone jewelry. One particularly beautiful opal ring, however, proved beyond his powers of acquisition. The opal ring was owned by a Roman Senator called Marcus Nonius who refused a vast fortune for it. Mark Anthony responded to the refusal by demanding that Marcus either sell the ring or leave the vicinity! The opal must have been an astonishingly beautiful jewel, since Nonius chose to leave Rome, rather than let the opal go. Antony and Cleopatra lived happily for several years and had three children together. However, when they married, the Romans turned against Mark Antony.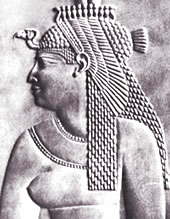 Bas Relief of Cleopatra Wearing a Diadem
It seems that Antony and Cleopatra's love for each other ultimately led to their downfall. On learning falsely of Cleopatra's death, Mark Antony committed suicide by falling on his sword. Distraught at the sight of her lover's corpse, Cleopatra was said by some to have taken her own life by allowing a deadly snake to bite her. According to scholars, she either died of a fever from infected wounds or poisoned herself and fell into an eternal sleep. The historian, Plutarch, gives an account of Cleopatra "lying on a bed of gold, set out in all her royal ornaments" including a golden diadem. The tomb of Antony and Cleopatra has not yet been found. But if and when it is discovered, it could contain jewels and gold to rival those discovered by Howard Carter in the tomb of King Tutankhamun. Cleopatra VII was one of the most powerful females in history and the love between her and Mark Antony was such that it has transcended time to be told of again and again.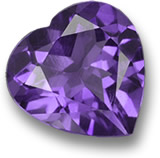 Heart-Shaped Amethyst Gem
Amethyst, the February birthstone is loved by gem and jewelry enthusiasts all over the world for its color, hardness and affordability. Amethyst can be found as small gems in matched lots and also as large single stones. The most valued amethyst is a deep purple color, but many people like the pale lilac colors too. Not only is amethyst a wonderful gemstone in its own right, but it is also an important stone for crystal healers. The origin of amethyst is related in a Greek myth, which tells the story of Diana being turned to crystal by the god of intoxication. In fact, for many years, amethyst was believed to be a stone of sobriety.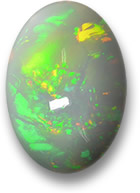 Oval Opal Cabochon
Mark Antony may not have acquired the beautiful opal gemstone ring that he wanted to buy from Marcus Nonius, but you can feel free to choose from our selection of beautiful opal gems available, including the opal cabochon on the right. This stunning opal shows an incredible play of color; the characteristic that opal is prized for. This is caused by the way that light is diffracted from tiny spheres of silica gel inside the gemstone. Opals come from various regions, but Australia, where opal is the national gemstone, is the most famous source. As well as different sources, there are many different colors varieties of opal, which include black opal, boulder opal, chocolate opal and fire opal. Therefore, there is an opal for everybody.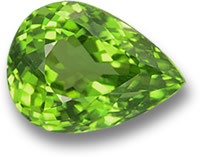 Pear-Shaped Peridot Gem
Peridot was mined from an island to the east of Egypt during the reign of Cleopatra VII and was known by the ancient Romans as "evening emerald" because of the way the color glows even in dim light. An interesting fact about the color of peridot is that it is not caused by trace impurities, but is a result of its composition. This means that peridot is only ever found in green, but can vary from yellow-green to brownish-green. The most desirable peridot gems are a vivid green color. Peridot makes great jewelry because of its beautiful color, good hardness and durability. It is a versatile gem that is affordable in large sizes, matched sets and interesting shapes.
The world's largest blue star sapphire was unearthed from a Sri Lankan gem mine in Ratnapura. The record-breaking cabochon weighs 1,404 carats and the owner, who wishes to remain anonymous, believes it is worth at least $300 million. The star sapphire exhibits a six-rayed star and has been named "The Star of Adam". It is not yet clear as to where the phenomenal gemstone is destined to go, or what the owner paid for the stone.
A 133.4-carat diamond has been discovered at Lucapa's Lulo Diamond Project in Angola. This recent find is the largest from the site and beats the previous record of 131.4 carats, which was found in 2012. Along with the 133.4-carat diamond were three other sizeable pieces weighing 29.2 carats and 11.1 carats of D color.
Stolen gemstone jewelry worth an estimated $1.5 million has been returned to its owner. The jewelry, including gemstone rings and a diamond tennis bracelet had been left in the locked trunk of a car in California by the owner who was planning to sell it. However, his car was broken into and the valuable jewelry was stolen. An honest motorcycle shop owner later found the jewelry outside his shop and handed it in to the Sheriff's Department.
Every month we answer questions of general interest from our customers. Please feel free to send your questions or suggestions to our support team at help@gemselect.com!
Question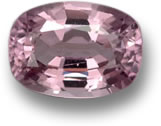 Cushion-Shaped Spinel Gem
Could you please tell me why my gemstone is labeled as a "cushion", but the gem certificate says "oval"?
Answer
While most gem shapes are easy to distinguish, sometimes a gemstone may fall between two shapes. This can be the case with some
cushion
-shaped gems, which have rounded corners and are between a rectangle and an oval. Some cushion-shapes can appear quite square and some may be more rectangular. Yet other cushion-shaped gems are more oval, which means that it can be a matter of opinion as to whether the gemstone is labeled "cushion" or "oval". A difference of opinion is sometimes reflected when we describe the gem as one shape and the gem lab describes it as another.
Question
Hi, sometimes I put a gem in my cart and then the next day it has disappeared! Is there a technical problem?
Answer
That's a question a few people have asked. There are several reasons why something has disappeared from your cart. First, it could have been bought already. Our inventory is dynamic, with all gems online being available until they are purchased, after which they become unavailable. Secondly, we may have taken the gem to update the photos or make a new video. Lastly, our website uses cookies, so if you have not enabled cookies, then you may have difficulty seeing the items in your cart. If you have problems with your shopping cart or orders, please feel free to contact us and we will help you to work out what's going on. Also, if you use the "compare" feature, which is a checkbox above each item, the item will be sent to your wishlist and you will be able to view all of the items on your wishlist, even after you buy them, until you remove them. The wishlist will save you time when you would like to find the gems again, especially if you intend to buy them at a later date.
We always welcome your questions, comments and feedback! For those who are interested in attending some gem and jewelry events, please see the details below.
Event Name
Antwerp Diamond Trade Fair (ADTF)
Venue
Radisson Blu Astrid Hotel, Antwerp, Belgium
Dates
January 31 - February 2, 2016
Venue
Kino Veterans Memorial Community Center, Tucson, Arizona, USA
Dates
February 1- 6, 2016
Venue
Ifema, Feria de Madrid, Av. Partenon, 5, 28042, Communidad de Madrid, Spain
Dates
February 3 - 7, 2016
Event Name
Junwex Petersburg
Location
Russian Federation
Venue
Expo Forum, 15/2, 26th Line, VO, 199106, St. Petersburg, Russia
Dates
February 3 - 7, 2016
Event Name
The Jewellery Show
Venue
National Exhibition Centre (NEC), Birmingham, UK
Dates
February 7 - 11, 2016
Event Name
Tucson Gem & Mineral Show
Venue
Tucson Convention Center, 260 S. Church Ave, Tucson, Arizona, USA
Dates
February 11 - 14, 2016
Location
Russian Federation
Venue
Exhibition Centre CHSC, 620072, Ekaterinburg, ul. Vysotsky, 14 Ekaterinburg, Russian Federation
Dates
February 11 - 14, 2016
Event Name
Esoteric Fairs Berlin
Venue
AVS-Logenhaus, Emser Str. 12, 10719, Berlin, Germany
Dates
February 12 - 14, 2016
Venue
Centro de Convencoes Frei Caneca, Rua Frei Caneca 569, Consolacao, Sao Paulo, Brazil
Dates
February 17 - 18, 2016
Event Name
Fischen Jagen Schiessen 2016
Venue
BERNEXPO, Mingerstr. 6, 3000 Bern 22, Switzerland
Dates
February 18 - 21, 2016
Keep up with our new arrivals before they hit the newsletter by joining our thousands of fans and followers on our social networking pages. We love interacting with our customers - you can visit us on Tumblr, LinkedIn, Twitter, Facebook or Pinterest!
To ensure you can receive our emails, please be sure to add help@gemselect.com to your list of safe contacts, or you add us into your email address book! Please feel free to contact us with any questions, comments and queries! We respond to each and every email we receive.
Happy Gem Hunting!
Your friends at GemSelect
First Published: March-07-2016
Last Updated: May-25-2018
© 2005-2021 GemSelect.com all rights reserved.
Reproduction (text or graphics) without the express written consent of GemSelect.com (SETT Company Ltd.) is strictly prohibited.