GemSelect Newsletter - February 2019

Hello to all of our cherished customers and happy February, 2019
We want to take this opportunity to ask all of you for your stories, requests, suggestions for our site or content, and any other feedback you may have. We want to know how we can help you to grow your businesses, expand your collections, and outright make you happier GemSelect customers!
Anyone who will message us information please include 'anything you would like to say' and we would love to know about:
Anything we can improve to become the number one resource for all of your gemstone needs!
Please message us at help@gemselect.com with your input. We greatly appreciate it and please enjoy our February newsletter.
Inspired Gift Ideas For 2019
Back to Top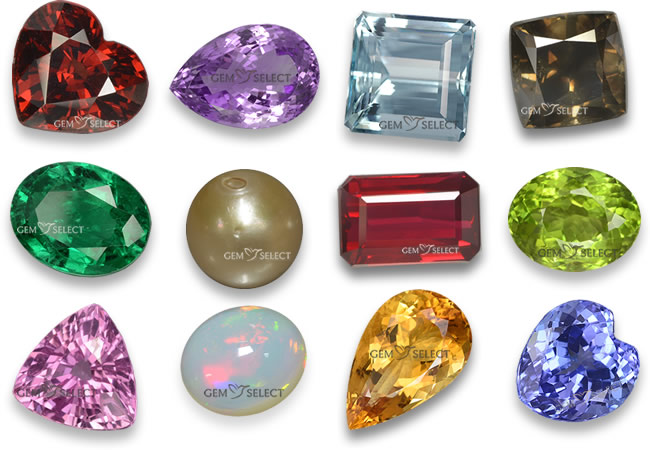 We want to share a story with you that was told to us by one of our lovely clients. This idea truly touched our hearts and drove our imaginations. We thought this was such a great story that we decided to share it for our February newsletter.
As part of our efforts to improve customer support and selection we have been calling customers to see what they would like us to have in terms of product and availability which is how we came across this story. The story is about giving which is something everyone aims to do. And since we're all gemstone lovers shouldn't we give a gift that comes from a place that we are really passionate about? We here at GemSelect think so. So, without further ado here is the story of our wonderful client Jason.
Upon placing a call to Jason who was very kind we asked the question what kinds of gemstones are selling in your store. He replied saying they were given as gifts. Well wonderful, we love to hear any reason why people are buying gems because that is our business! But gifts what kind of gifts? It turns out our friend Jason has been giving birthstones for gifts to his most valuable players at work! Yes that's right gems for your best team members. Here it is in Jason's own words because we couldn't have put it any better ourselves.
"I've been buying the gemstones for my MVP's at work. It's much more appreciated than a consumable. Also if it brings them the health and wealth well wishes kinds of thoughts most people appreciate it. Some people's birth stones are only 10-20$ so it works out cheaper and well........ A lot of women never get these things. So when they get their first stone it's a thing I suppose.
I find now most people I have given their birth stones to they are much easier to work with and it's easier to develop relationships with them. Maybe it's the thought of going into looking up that persons birth stone or maybe the positive aspects ones birthstone which may invoke upon them. Or maybe it's just because is shines. I dunno Hahahaah. Perhaps all of the fore mentioned."
After hearing this story we thought of all the occasions this type of gift could be given for; Christmas gifts, for employee of the month gifts, and of course the birthdays of friends, family, and co-workers/employees. Really the possibilities are endless and the benefits are undeniable. So let 2019 be a year of giving and not only giving but sharing - sharing what is special to you to the rest of the people in your life by giving gems!
February's Birthstone - We Have Gorgeous Amethyst in Stock Now!
Back to Top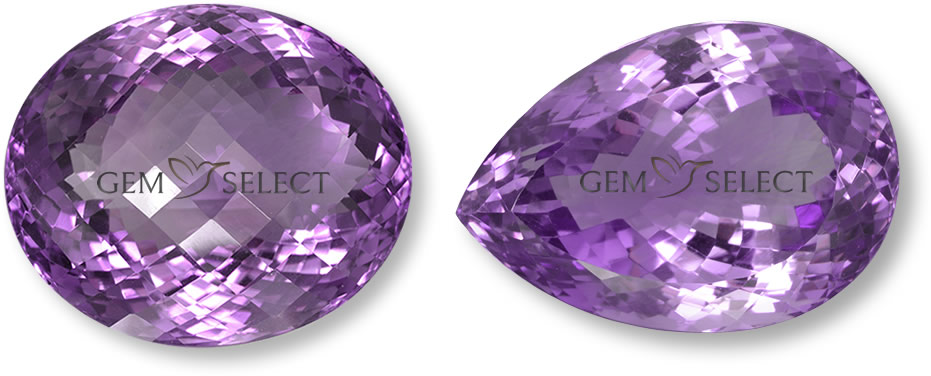 If you have browsed our selections of amethyst lately you will have seen some of our amazing pieces; not only large amethyst samples that are expertly cut and internally flawless but also unique fancy cuts and numerous checkerboard cuts that are truly beautiful. It's February and we are excited to have these one of a kind gemstones in stock ready to ship for your last minute birthstone gifts!
Why give the gift of amethyst? Let us provide you some details about amethysts popularity, its rise to fame, and why it is now one of the most popular semi precious stones today.
Amethyst has been prized for centuries because of its lovely color and impeccable clarity. When it comes to amethyst's qualities and value you should note color is the most important part of both. When searching for a quality specimen to purchase you should look for a gemstone with good saturation and minimum color zoning. Grown underground worldwide amethyst forms in geodes some of which are massive and are also known as hollow rocks. Most of the amethyst used in jewelry today is formed in these crystalline formations that develop in a crust like manner.
Prior to the massive Brazilian deposits discovery amethyst was valued even higher than rubies and sapphires thus available to only the elite. Thankfully vast deposits of this gemstone have been found throughout the Americas predominately South America, in Brazil. The discovery of vast deposits of amethyst gemstones in South America and other countries raised its availability and concurrently reduced its scarcity and price but certainly not its beauty.
Throughout history, people have cherished amethyst for its captivating elegance. Even today, it is recognized to be a representation of satisfaction and holiness. Amethyst is credited with the power to calm the mind and block angry or uneasy emotions. It is also considered to be the birthstone for people born in February as well as the accepted gemstone for the 6th and 17th wedding anniversaries.
If you are searching for birthstone gifts and seeking something other than amethyst for a February born friend or family member check our Zodiac and Planetary stones page: Alternate February Birthstones and Zodiac Stones for Aquarius and Pisces!
Just Added Sell By Piece Gemstone Lots!
Back to Top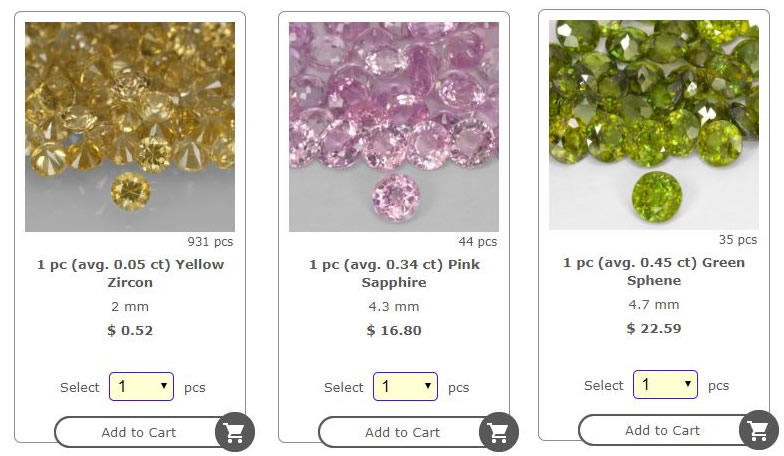 GemSelect has added an enormous amount of gemstone lots to our sell by piece inventory. Our collection now boasts large numbers of sapphire lots for you to choose from. As of now there are 66 color matched and size matched gemstone lots in sapphire alone and over 200 lots of various gem types and sizes total!
Our sell by piece inventory includes only top quality gemstone lots to buy. You can expect excellent quality from every item purchased in this section even our best value lots that begin as low as $0.10 per piece!
Here is a short list of some of the newly added lots:
Yellow Zircon - round faceted 2 mm - Only $0.52 per piece
Pink Sapphire - round faceted 4.3 mm - Only $16.80 per piece
Green Sphene - round faceted 4.7 mm - Only $22.59 per piece
Orange Carnelian - round faceted 3.2 mm - Only $0.44 per piece
Violet Spinel - round faceted 5 mm - Only $30.45 per piece
Yellow Citrine - square step cut 7.1 x 7 mm - Only $9.43 per piece
Red Ruby - round faceted 3.7 mm - Only $52.15 per piece
Blue Iolite - oval faceted 6.1 x 4.1 mm - Only $4.10 per piece
Red Pyrope Garnet - heart faceted 4.1 x 4.1 mm - Only $1.99 per piece
White Topaz - marquise faceted 6 x 3 mm - Only $1.39 per piece
Blue Tanzanite - pear faceted 5.2 x 4 mm - Only $8.25 per piece
Yellow Sapphire - round faceted 4.5 mm - Only $23.30 per piece
Violet Sapphire - square step cut 2.1 x 2.1 mm - Only $2.87 per piece
Orange Sapphire - oval faceted 6.2 x 5.1 mm - Only $119.92 per piece
And many more! Please check our entire inventory to see what suits you today!
Customer FAQs - Ask Us
Back to Top
Every month we answer questions of general interest from our customers. Please feel free to send your questions or suggestions to our support team at help@gemselect.com!
Which colors does Flourite come in?
Flourite is often referred to as the most colorful mineral in the world owing to its variety of brilliant colors. Flourite is the mineral form of calcium fluoride, CaF2 and occurs in a range of colors from colorless to black. The hallmark Fluorite color is purple, while other popular colors include blue, green and yellow. Rarer colors include colorless, pink, brown, black and reddish-orange. Intermediate pastels between the previously mentioned colors are also possible. Most Fluorite is a single color, but a significant percentage of Fluorite exhibits multiple colors arranged in bands or zones.
Hi, how do you measure carats in gemstones?
Carats, abbreviated 'ct' is a measure of weight used for gemstones. The English word carat comes from the Greek word for keration ('little horn'), referring to the shape of the seedpods of the carob tree. These seeds are small and uniform in weight; therefore, they were a standard for weighing gemstones in early times. Around 1920, the metric carat was adopted as an international standard. One carat equals a fifth of a gram (0.20 grams), so there are five carats to the gram.
To ensure you can receive our emails, please be sure to add help@gemselect.com to your list of safe contacts, or add us into your email address book! Please feel free to contact us with any questions, comments, and queries! We respond to every email we receive.
Happy Gemstone Hunting!
Team GemSelect
First Published: January-31-2019
Last Updated: February-05-2019
© 2005-2021 GemSelect.com all rights reserved.
Reproduction (text or graphics) without the express written consent of GemSelect.com (SETT Company Ltd.) is strictly prohibited.