GemSelect Newsletter - Gems for May 2015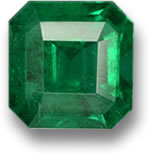 Emerald-Cut Zambian Emerald
The traditional birthstone for those born in the month of May is emerald. Emeralds come from several sources around the world, which include Colombia, Afghanistan and Zambia. Brazilian emeralds tend to have good clarity and a slight yellowish color while Colombian and Zambian emeralds are prized for their rich bluish-green hue. Emerald is a type III gemstone with regard to clarity. This means that it is almost always included and even top quality emeralds will have inclusions. The inclusions of emerald are accepted as part of the nature of the gemstone. Treatments have been developed to improve the clarity of emeralds, the most common of which is oiling.
The "emerald cut" was developed for emeralds. This is a step cut with a square or rectangular shape and truncated corners. This shows off the beautiful green color perfectly and reduces the structural pressure on the stone when being set. Many other gemstones are also given emerald cuts, but for different reasons. For example, tourmaline is especially suited to this cut due to its elongated crystal habit and also to optimize the display of color and reflection of light.

Blue Oval Sapphire Gem
The astrological gemstone for May depends on which part of the month the birthdate occurs on. For those born under the sign of Taurus (April 21 - May 21), the stone is sapphire. Sapphire is extremely hard and very versatile. For those who wear sapphires, there are many choices of color, price and shape. The most popular sapphire color is blue and there are a range of blue sapphire tones and prices; the more intense the color, the more valuable the gem. Large, vivid blue sapphire gems are rare and extremely valuable. Untreated blue sapphire is highly prized, but is both pricey and scarce, so heated sapphire, beryllium treated sapphire and fracture-filled sapphire are more affordable options. For those who are interested in alternative colors, sapphire is also available in color change gems, white, pink, yellow, orange, green and purple. The excellent hardness of sapphire and its lack of cleavage makes it extremely durable and suitable for any jewelry style or setting.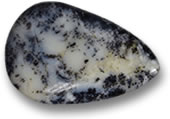 Dendritic Agate Cabochon
For those born under the sign of Gemini (May 22 - June 21) the zodiacal stone is agate. This also occurs in many different colors, patterns, cuts and shapes. Agate is a variety of chalcedony quartz that tends to be cut en cabochon, but also can be found faceted or carved, especially deep-green agate and black onyx. There are also agate geodes, which offer interesting and unique crystal formations. Other unique agate stones include moss agate and dendritic agate, which have interesting fern-like inclusions. Agates are excellent value jewelry gemstones that are durable and suitable for both men and women.
Alternative Gems for May - Untreated Spinel and Tourmaline
Back to Top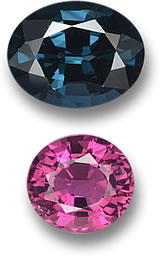 Greenish-Blue Spinel and Vivid Pink Tourmaline Gems
If you are looking for something other than birthstones, look no further than spinel and tourmaline. Between these two gem types, almost every color is available. Moreover, both spinel and tourmaline are typically untreated gems. Some blue and purple spinel gems are equally as attractive as sapphires and red spinel has been mistaken for fine ruby.
With regard to tourmaline, there are some interesting bicolor tourmaline gems and popular tricolor watermelon tourmaline. Also, available are large, long, deep-green tourmaline gems. However, some of the most stunning tourmaline stones that we've seen lately are vivid pink colors that are completely natural and untreated.
Despite being untreated and attractive, both spinel and tourmaline continue to be great value colored gems.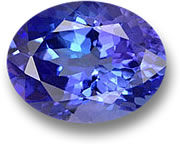 Oval Tanzanite Gem
Some gem types are becoming scarce for a number of reasons. Several gem types have been heavily mined for many years and deposits are almost depleted. Other gem types have only one or two known deposits. One of the latter is tanzanite, which is a beautiful blue to violet zoisite gemstone that occurs only in one part of the world; the Northern Tanzanian hills, hence the name. Since its discovery in 1967, it has become more popular, which is causing prices to gradually rise. Unless a new deposit is discovered, the prices of tanzanite are likely to steadily increase. Tanzanite has a good level of hardness, but its perfect cleavage means that care should be taken when polishing, cutting and setting it. Perfect cleavage is a trait possessed by several gemstones, including diamond, and means that a single blow can cleave it.
Gems With The Best Value - Untreated Garnet
Back to Top
For those looking to make the most out of their budget, it may be worth considering some of our garnet gemstones. Garnets possess good hardness and are available in almost every color except for blue, which is incredibly rare. There are even color-change garnets. The colors of garnets can be vivid red (pyrope, rhodolite and almandine), orange (spessartite and hessonite), green (tsavorite grossularite and demantoid), rose to peachy pink (malaya) and golden yellow to brown (Mali garnet). For those who prefer cabochons, there are also star garnets. There is even a variety of black garnet, known as melanite.

Deep Orange-Red Oval Spessartite Garnet
With regard to clarity, garnet is a type II gem, which means that most gems are usually included. Some garnet varieties are eye clean and others have more prominent inclusions. Such inclusions can sometimes be a desired trait. For example, demantoid garnets from Russia with distinctive "horsetail inclusions" are highly sought after. Rhodolite garnet tends to be cleaner than other garnet varieties, and most almandine and pyrope garnet stones are eye clean. Garnets are durable enough for any kind of jewelry and there is a garnet to suit every taste.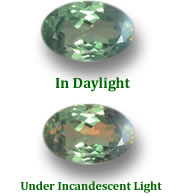 Alexandrite
Exhibiting Color Change
Alexandrite is an extremely rare variety of color change chrysoberyl. It is usually found in lots of very small gems and is very rare in gemstones weighing over 0.5 carats. In fact, the typical retail price of 1 carat gemstones is around $500-$1,200. Calibrated sizes are also very rare. We recently acquired a 7mm X 5mm pear-shaped alexandrite. Please check out our new arrivals page to see our new alexandrite gems. However, be aware that they may not be there for long! If you are interested in other color change gems, you can explore them here.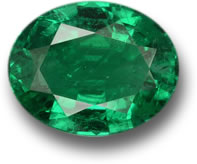 Zambian Emerald
Emeralds remain one of the most popular colored gemstones and are one of the "precious four" gems, the others of which are diamonds, rubies and sapphires. Colombian emeralds are the best-known in the world, particularly those from the Muzo Mine. However, the lesser-known Zambian emeralds can rival the best Colombian gems in both color and clarity. We have recently acquired some stunning Zambian emeralds that exhibit a highly saturated green color. If you are thinking of investing in emeralds, be sure to take a look at our Zambian emeralds. Although the prices are high, these are still a good buy, since emeralds of this fine color are very difficult to find.
The International Coloured Gemstone Association 2015 Congress will be held this month in Sri Lanka. The country formerly known as Ceylon is an important place with regard to the international gemstone industry. In accompaniment to the Congress, there will be a Facets Sri Lanka gem show and a mine tour.
A new auction record was set at Christie's New York when a natural four-strand colored pearl necklace sold for just over $5 million. The necklace was bought by a private Asian buyer. It is the highest amount ever paid for a natural colored pearl necklace. The necklace is made up of natural, untreated saltwater pearls.
Every month we answer questions of general interest from our customers. Please feel free to send your questions or suggestions to our support team at help@gemselect.com!
Question
Hi, I recently ordered some gemstones from your site and received them all in good time, but did not receive any tracking information, even in my junk folder. Why is this?
Answer
We are sorry that you did not receive the tracking information. Sometimes our email notifications go into the spam or junk folder if we are not added to your list of contacts. Nowadays, some email account providers do not even send 'spam' or 'junk' mail into a folder. This means that you will not receive it at all. Therefore, if you wish to receive our notifications unhindered, such as shipment tracking information and order confirmations, please be sure to add us to your safe contacts list.
Question
I am looking for a replacement gemstone and my jeweler told me that I need a 9 X 7 mm sized calibrated gemstone to fit my ring. Could you please explain what this means and why I need it?
Answer
A calibrated size is a standard sized gemstone that will fit standard jewelry settings. For each gemstone shape, there are calibrated sizes that range from small to large. You can see our
calibrated size chart
for these. If you require a gem in a particular size, simply find the shape and click on the size needed and this will pull up all of the available gems in that size and shape. If you are buying a gem to fit jewelry rather than designing jewelry to fit a gemstone, it is always best to choose from our calibrated sizes rather than risk buying a gemstone that does not quite fit. We recommend that colored gemstones are bought by
size
rather than carat weight because gemstone density varies for different gem types.
We always welcome your questions, comments and feedback! For those who are interested in attending some gem and jewelry events, please see the details below.
Event Name
Japan Mineral Show
Venue
Pacifico Yokohama, Yokohama, Japan
Event Name
International Gem & Jewelry Show Chicago
Venue
Donald E. Stephens Convention Center, Bryn Mawr Ave, Rosemont, IL, USA
Event Name
IFJAG International Fashion Jewelry & Accessory Show
Venue
Affina Manhattan, New York, NY, USA
Event Name
New York Accessories Market Week
Venue
Individual Showrooms, New York, NY, USA
Event Name
The Whole Bead Show - Vancouver
Venue
The Empire Landmark, Crystal Ballroom, 1400 Robson St, Vancouver, Canada
Event Name
Jewelry Shanghai
Venue
Shanghai World Expo & Convention Centre, Hall 1 & 2, Guo Zhan Rd, Shanghai, PRC
Event Name
The 12th International Jewelry & Watch Vietnam 2015
Venue
Tan Binh Exhibition & Convention Centre, Ho Chi Minh City, Vietnam
Venue
Antwerp Expo, Jan Van Rijswijcklaan 191, 2020 Antwerp, Belgium
Event Name
Jeweller Expo Ukraine
Venue
Kyiv Expo Plaza Exhibition Center, Kyiv, Ukraine
Event Name
International Jewellery & Watch Show
Venue
Abu Dhabi National Exhibition Centre, Abu Dhabi, UAE
Event Name
MineralienWelt
Venue
Messe Idar-Oberstein, John F. Kennedy Str. 9, Idar-Oberstein, Germany
Keep up with our new arrivals before they hit the newsletter by joining our thousands of fans and followers on our social networking pages. We love interacting with our customers - you can visit us on Tumblr, LinkedIn, Twitter, Facebook or Pinterest!
To ensure you can receive our emails, please be sure to add help@gemselect.com to your list of safe contacts, or you add us into your email address book! Please feel free to contact us with any questions, comments and queries! We respond to each and every email we receive.
Happy Gem Hunting!
Your friends at GemSelect
First Published: April-30-2015
Last Updated: June-20-2017
© 2005-2021 GemSelect.com all rights reserved.
Reproduction (text or graphics) without the express written consent of GemSelect.com (SETT Company Ltd.) is strictly prohibited.