GemSelect Newsletter - The Opal that Rocked the Spanish Court
Opals are colorful October birthstones that have been worn and enjoyed throughout history. Like many other gemstone types, there are a wealth of superstitions and legends surrounding opals, from Marcus Nonius to Harry Potter; some good and some not so good. One such story is the tale of a cursed opal that appeared in the Spanish Court during the 19th century.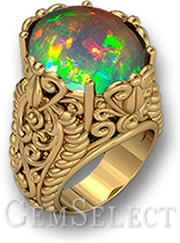 Ornate Gold Opal Cabochon Ring
In 1898, the Chicago Tribune published the story of a cursed opal that was believed to have caused terrible misfortune in Spain. Mounted in a gold filigree ring, the large opal had exquisite play of color and was worn by the Comtesse de Castiglione of Italy, a great beauty who was married to Count Francesco Verasis da Castiglione at the tender age of 17 and later conducted a scandalous affair with Napoleon III. After the end of the romance, she returned to Italy, and then later settled in France, where she had a string of romances with influential figures before catching the eye of the heir to the Spanish throne, the soon-to-be Alfonso XII. Although she was not particularly taken with him at first sight, she was impressed by his status and agreed to follow him to Spain and take up a prominent position in the Spanish court. Alas, King Alfonso XII married a first cousin, Mercedes of Orleans, and forgot his promises to the Comtesse. Enter the curse of the opal.
The disappointed Comtesse sent King Alfonso her beautiful opal ring as a wedding gift. Upon seeing the ring, Queen Mercedes took a liking to it. It is said that as soon as she slipped the opal ring onto her finger, she was taken ill, and died in a matter of months. However, if we examine the facts a little more closely, we can learn that two of Queen Mercedes' siblings died before the age of 20 and more pertinently, she had a serious case of typhoid fever soon after their honeymoon. The next owner of the ring was King Alfonso's grandmother, Queen Isabella II, who, according to the Tribune also died after a few months. Yet, according to the history books, Queen Isabella II lived until the ripe old age of 73, when she died of influenza. Her death came after that of King Alfonso himself.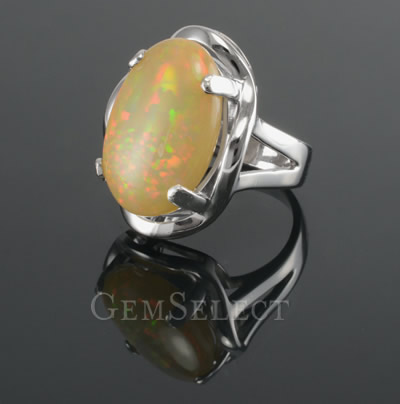 Silver Opal Ring from GemSelect
According to the Tribune, Alfonso's sister, the Infanta Maria del Pilar was next to wear the ring. Not surprisingly, she was suddenly taken ill and died in days, though it is thought she was struck down by tuberculosis. Alfonso's fiancée, Queen Mercedes' elder sister, Maria Cristina of Orleans was next to succumb to the curse, though she was also thought to have been suffering from tuberculosis. Finally, Alfonso put the ring onto his own little finger and apparently, was dead within 24 hours. According to doctors, his organs had failed, and it is widely documented that he died of tuberculosis, coupled with a serious case of dysentery, probably due to cholera. Queen Maria Cristina (of Austria) took possession of the ring thereafter. Instead of wearing it, she attached it to a chain and hung it from the neck of a statue of the Virgin of Almudena at the Madrid cathedral in which Queen Mercedes' remains were interred. It is not clear what happened to the opal ring, but it is thought that the statue was destroyed during the Spanish Civil War.
As you can see, there are two sides to every story, and often "cursed" gemstones spring from a series of unfortunate events along with a little exaggeration and distortion of facts. Whichever version of the story you choose to believe, it cannot be denied that opals are one of the most spellbinding gemstones, so much so, that even the superstitious are willing to take risks to wear them. To all those born in October, happy birthday and wear your opals without fear!
We have been lucky enough to recently acquire a small collection of strawberry quartz gemstones. These are composed of quartz with red iron oxide inclusions, which may be very fine, giving the quartz a red appearance, or visible, appearing as red needles, spangles or flakes within a white quartz stone. The red color of these gems has led to the names "strawberry quartz" and "red fire quartz".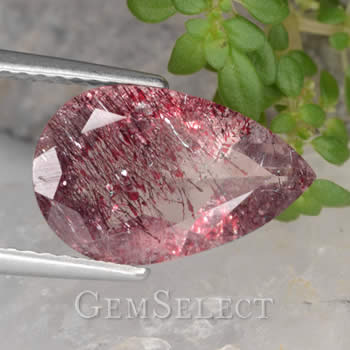 Pear-Shaped Strawberry Quartz Gemstone
Purple spinel stones from Tanzania are another recent addition to our extensive inventory. These stunning spinel gems range in color, from violet to reddish-purple, are untreated and weigh 2 carats or more. Tanzania is a well-known source for spinel, particularly Mahenge, which is known for beautiful pink and red spinel.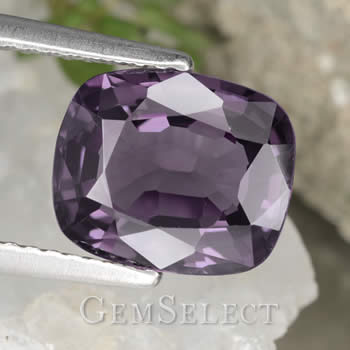 Cushion-Shaped Purple Spinel Gemstone
A further new arrival of ours is calcite. This is a calcium carbonate gemstone that is mainly a collector's stone and is rarely seen in jewelry, due to its relative softness. However, the hardness of calcite is comparable to popular jewelry gemstones such as amber and coral, so it can be used for jewelry, particularly earrings and pendants. Our collection of calcite cabochons includes green, orange and cream colored stones.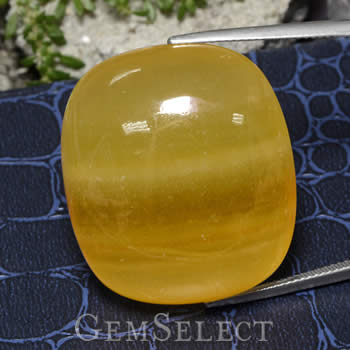 Orange Calcite Cabochon from Mexico
The largest gem-quality rough diamond, the 1,109-carat "Lesedi la Rona" has finally been bought by Graff Diamonds for $53 million. The enormous rough stone was discovered in Botswana in November 2015 at Lucara Diamond Corporation's Karowe Mine, but failed to sell at Sotheby's in 2016.
A 27.85-carat pink diamond has been discovered in Russia by Almazy Anabara, a subsidiary of Alrosa. The company has yet to decide whether to cut the stone or sell it as rough, but believes that if cut, the pink diamond could reach the highest price that the company has seen for a polished gemstone.
Items of jewelry previously owned by two iconic actresses have recently generated a great deal of interest at auction. A collection from "Gone with the Wind" star, Vivien Leigh was auctioned off by Sotheby's, including a charm bracelet with jadeite and chalcedony charms that sold for $45,195 and a wristwatch embellished with rubies and diamonds that achieved $33,477. Meanwhile, pieces from "Breakfast at Tiffany's" star and fashion icon, Audrey Hepburn were presented by Christie's. A paste tiara worn by Hepburn in "The Nun's Story" and "Two for the Road" reached $58.598, exceeding the pre-sale estimate by over $40,000.
Every month we answer questions of general interest from our customers. Please feel free to send your questions or suggestions to our support team at help@gemselect.com!
Question
I notice that you have some serpentine cabochons. I really like their jade-like colors, but are they suitable for setting in rings?
Answer
While
serpentine gemstones
are not the hardest (their hardness is 2.5-5.5 on the
Mohs scale
), they can be worn as rings when used in protective settings, such as bezels; or when worn occasionally. The hardness of serpentine is comparable to that of pearl, which is also occasionally set into rings and worn with care.
Question
Hi GemSelect, I love your gems! Is there a way I can share your gem photos on Facebook or other social media sites?
Answer
We're glad to hear that you love our gems! Yes, we now have a way to share our products on Facebook, Twitter, Pinterest or via email. To do this, simply click on a single item and scroll down. The share options are below the photos. Furthermore, all of our articles now have like, share and Facebook comment options at the bottom of the page. Happy sharing!
We always welcome your questions, comments and feedback! For those who are interested in attending some gem and jewelry events, please see the details below.
Venue
Expo Guadalajara, Av. Mariano Otero 1499, Mexico City, Mexico
Dates
October 3 - 6, 2017
Event Name
43rd MidEast Watch & Jewellery Show
Venue
Expo Center Sharjah, Al Khan Area, Al Taawun St, opp Al Arab Mall, Sharjah, UAE
Dates
October 3 - 7, 2017
Event Name
Joya, Barcelona Art Jewelry Fair
Venue
Calle Aribau 80, Sobreatico 1A, 08009 Barcelona, Spain
Dates
October 5 - 7, 2017
Event Name
Junwex Yerevan
Venue
Meridian Expo Center, Kashegorcneri Street 70, Yerevan 0015, Armenia
Dates
October 5 - 7, 2017
Event Name
2017 Autumn Mineralfest
Venue
Macungie Memorial Park, Poplar St, Macungie, PA, USA
Event Name
Jewellex Africa, 2017
Venue
Sandton Convention Centre, 161 Maude St, Sandton, JHB 2196, South Africa
Dates
October 8 - 10, 2017
Event Name
Fall Jewelry, Fashion & Accessories Show
Venue
Donald E. Stephens Convention Center, 5555 N River Road, Rosemont, IL 60018, USA
Dates
October 12 - 15, 2017
Event Name
Istanbul Jewelry Show
Venue
CNR Expo (Istanbul Fair Center), Yesilkoy Mahallesi, 34149 Istanbul, Turkey
Dates
October 12 - 15 October, 2017
Event Name
The Big Bead Show
Venue
Sandown Park, Portsmouth Rd, Esher, Surrey, KT10 9AJ, UK
Event Name
Singapore Jewellery Fair 2017
Venue
Marina Bay Sands, Sands Expo & Convention Centre Halls B & C, 10 Bayfront Avenue, Singapore 018956
Dates
October 27 - 30, 2017
Event Name
International Jewelry & Merchandise Show
Venue
New Orleans Ernest N. Morial Convention Center, 900 Convention Center Blvd, New Orleans, LA 70130, USA
Dates
October 20 - 23, 2017
Keep up with our new arrivals before they hit the newsletter by joining our thousands of fans and followers on our social networking pages. We love interacting with our customers - you can visit us on Tumblr, LinkedIn, Twitter, Facebook or Pinterest!
To ensure you can receive our emails, please be sure to add help@gemselect.com to your list of safe contacts, or you add us into your email address book! Please feel free to contact us with any questions, comments and queries! We respond to each and every email we receive.
Happy Gem Hunting!
Your friends at GemSelect
First Published: September-28-2017
Last Updated: June-07-2018
© 2005-2021 GemSelect.com all rights reserved.
Reproduction (text or graphics) without the express written consent of GemSelect.com (SETT Company Ltd.) is strictly prohibited.