Amazonian Women and Their Adornments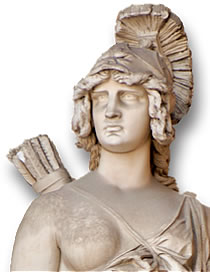 Statue of Penthesilea, Queen of the Amazons
Strong female figures have existed throughout recorded history. Like modern women from every walk of life, who enjoy fashion, gems and jewelry, the Amazonian women adorned themselves with some interesting and beautiful decorations.
Some of the earliest strong females were referred to as Amazons. They were depicted in ancient Greek art and mentioned by ancient Greek historians, Herodotus and Strabo. It was thought that these ladies only existed in legend. However, archaeological evidence has revealed that such females did exist and that they formed part of a group of people known as Scythians. Herodotus states that the Amazons settled with the Scythians and became the Sauromanians (Sarmatians). However, it is difficult to separate the fact from fiction when it comes to ancient Greek portrayals of Amazons, since the ancient Greek Amazons became the stuff of heroism and legend.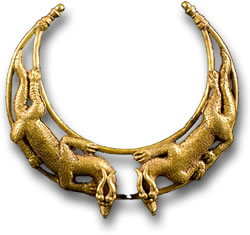 Scythian Gold Dragon Torc
The Scythians encompassed several groups of people who lived in areas from Romania and Bulgaria to Siberia. It is thought that they migrated from Persia to Central Eurasia in around 1000 BCE. The Scythian and Greek cultures were in contact near the Black Sea, so this is how Greek art and writings came to show such warrior women. In fact, it is thought that the Scythians commissioned Greek goldsmiths to produce fine gold objects.
The Amazonians were described by Strabo to be man-hating lesbian matriarchs who "seared" the right breasts of their infants to improve their archery, visited nearby regions once a year to procreate and sent baby boys away to be fostered. However, this could be fictitious. While the Scythians did kill men in warfare, there is no evidence to suggest that they were lesbians, hated men or mutilated their feminine features. Archeological excavations contradict the idea of a man-free society and have uncovered men buried with children. However, the Scythian women did wear trousers and smoke hemp.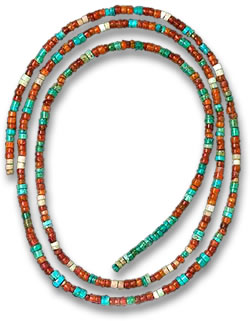 Scythian Beaded Necklace with Amber & Turquoise
Siberian burial mounds, known as kurhans or kurgans, have revealed the remains of Scythian warrior women who were buried with their weapons and finery. Siberia has approximately 30 such mounds, but most were plundered by looters. The most important burial mound is thought to have been the resting place of nobles. Their decorations included 5700 gold pieces and a large number of beads mostly depicting animals, which were most probably sewn onto clothes. There were 431 Baltic amber beads, carnelian beads and 1657 turquoise beads, which were most likely worn as a necklace. Also found were bronze, bone and iron arrowheads, stone bowls, gold earrings and a silver choker. This kurhan in the Republic of Tuva was remarkably intact, unlike other kurhans. The treasures unearthed from this mass grave suggest that the Scythians had a more sophisticated culture than was previously assumed.
Similar to the Scythian remains were the burial mounds of the Pazyryk people, who had an interesting addition to jewelry. Pazyryk people had some of the earliest body art in existence. This was discovered when a body was unearthed from the permafrost of the Ukok Plateau in the Siberian Altai Mountains in 1993. The ice preserved the grave so well that tattoos could be seen covering her shoulders and arms. This "Siberian Ice Princess" was not thought to have been a warrior or a princess, but could have been a holy woman. Her jewelry was made from wood coated with gold, which suggests that she was respected, but not royalty. She was buried with six horses, a meal of meat, a mirror believed to be of Chinese origin and some cannabis.
The most striking thing about the Ice Princess's tattoos is that they are very similar to modern-day body art. The tattoos are thought to have been marks of identification. They show fantastic animals, such as a deer with the beak of a bird and a winged wild cat. Following an MRI scan of the Siberian Ice Princess, it was reported that the 25 year-old-woman suffered from a bone infection and could have died of breast cancer around 2,500 years ago. It is believed that she used the cannabis for pain relief.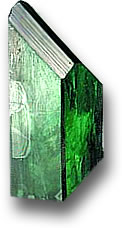 Vivianite Crystal
In addition to tattoos, the Ukok lady was wearing a silk shirt and a tall wig with a bronze pin decorated with a golden foil-covered wooden image of a deer atop a sphere. She also had what appeared to be a face brush, vivianite powder and an early eyeliner pencil made of vivianite surrounded by iron rings. Vivianite is a deep blue-green mineral that was named by Abraham Gottlob Werner in 1817 after being discovered in Cornwall, England, by John Henry Vivian. It seems to have been used long before its discovery in the UK. Vivianite is beautiful, but due to its lack of hardness, it is mainly only a collector's gemstone.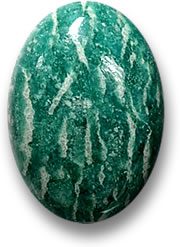 Amazonite Cabochon
Another gemstone associated with the women known as Amazons is the green feldspar called amazonite. This is also known as the Amazon Stone because it was thought to have been found in the Amazon Basin. A group of warrior women called Amazonians was described by Spanish explorers searching for gold in South America in the mid-1500s. These women lived on a tributary of the Amazon River. They were said to be ferocious fighters, so they were named after the Greek legendary female warrior, and then the famous Brazilian river became known as the Amazon. According to legend, the Amazonian women gave green stones to men who came to visit them.
It seems that wherever there are women, there are Amazonians, from thousands of years ago to the modern day. Some of these strong females were legends and others were warriors or respected members of society. All of them enjoyed the beauty of jewels.