Gemstone Appraisals
From time to time customers ask us for an appraisal on a gemstone they've purchased from us. We find it such an odd request that we're never quite sure what to say.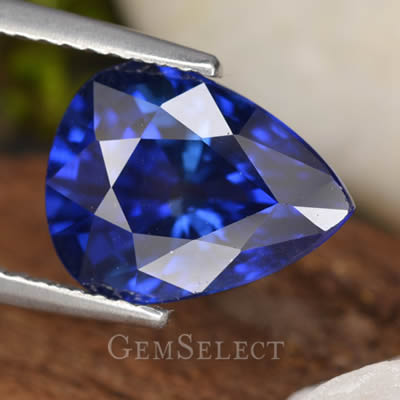 Pear-Shaped Blue Sapphire
We find it an odd request for several reasons. For one thing, it suggests the customer has been buying from a gem dealer who does give appraisals on the stones he sells. It's not a very ethical practice, since the dealer may well give an unrealistically high value in the hope of selling the gem. An appraisal should be an objective assessment of value, not a sales tool.

The other reason the request is rather odd is that the dealer has in effect already made an appraisal of the gem when he put a price on it. If the dealer is selling the gem for $100, he apparently thinks it's worth $100. What's the point of asking for a second appraisal? It's like asking your doctor for a second opinion after he's given you his diagnosis. (As the old joke goes, the doctor says, "OK, you're ugly too!").
What is the customer really looking for when he asks his gem dealer for an appraisal of a gem that has already been priced? Does he simply want to know that he got a good deal on the stone? Or is he wondering how much he can get for it when he sells it? The first question can only be answered by looking at the prices of comparable stones on the market, presumably something the customer already did before he made his purchase. The second question depends very much on market conditions when it comes time to offer the gem for sale.
There are people who offer professional appraisals of gemstones and jewelry. Most often these appraisals are done for insurance purposes and specify the "replacement value" of the item. Buyers who are thrilled to receive a higher than expected appraisal on a gem are less thrilled when they discover this means only that they have to pay a higher premium to insure it. The problem with the appraisal industry is that it is not regulated and the appraisal mainly constitutes the opinion of the appraiser. If the appraisal included an offer to buy the item at the appraised price, then that would be an appraisal worth taking seriously!
Gemstone appraisal is quite different from gemstone certification, where a recognized gemological laboratory identifies a gem through scientific testing. Certifications do not set a value on a gemstone. In fact, in most cases they do not assess the grade of the gem at all, but certify its type, size, weight, color, clarity and often, any treatment.
The value of a gemstone is determined in the marketplace. Prices for comparable items vary, as smart buyers know, since the prices that dealers pay for gems vary according to where they buy and in what volume. But it's very unlikely that a dealer will sell you a gemstone for $100 if he really thinks it's worth $300.