Avant-Garde Gemstone Jewelry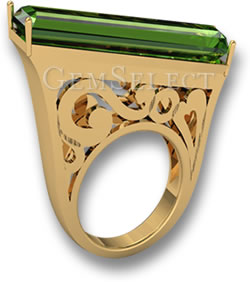 A Unique Green Tourmaline Ring
The French phrase, "avant-garde" is used to describe leading art, artists or ideas. With regard to jewelry, work that is innovative, advanced, daring, experimental, unconventional or unexpected may be labeled as avant-garde. Such pieces may be seen as costume jewelry on catwalks, fine jewelry on red carpets, as curiosities in art exhibitions and as a mix of all in jewelry stores. One of the interesting things about avant-garde jewelry is that once it becomes usual, it is no longer avant-garde. For example, rough-cut gemstones or "raw" gems set into jewelry emerged in recent years, but are now quite commonplace. For a jewelry piece to truly stand out in years to come, it must be the first of its kind.
With regard to avant-garde gemstone settings, Van Cleef & Arpels patented the "Mystery Setting" in the 1930s, which allowed colored gemstones to be showcased without any visible metal. To achieve this, grooves are carved into the side of the gem's pavilion which is slotted onto tiny metal rails. One of the latest innovative settings is gems within gems with no visible metal. Yael Designs and master lapidarist, Glenn Lehrer are at the forefront of such cutting edge designs with the creation of a, 18K white gold, moonstone and diamond "Sentience" bangle that features a 7-carat, pear-shaped central tanzanite gem that is set inside a 26-carat, cushion-cut aquamarine stone.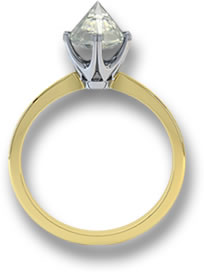 An Upside-Down Set Gemstone Ring
The late Canadian artist and designer, Tobias Wong, designed several jewelry pieces and art that is both innovative and unique. He made South Sea pearl stud earrings with a black rubber coating that could be peeled off in 2003. He also designed a "Killer Diamond Engagement Ring" in 2004. The ring featured a diamond which was set upside-down with the pointed pavilion turned upwards. This renders the ring a dangerous weapon that could easily scratch or cut pretty much any other material. For the New York Museum of Modern Art (MoMA) exhibition entitled "SAFE: Design Takes On Risk" in 2005, Tobias Wong made a Ballistic Rose Brooch from Kevlar, which is a synthetic protective material used in bulletproof vests.
Wearability and where jewelry is worn is always being tweaked, with knuckle rings, nail rings, ear-climbing cuffs and even face distorting jewelry which literally tweaks the facial features. Turkish artist, Burcu Büyükünal, created a collection called "Terrifying Beauty" that intends to make us question the function of jewelry and concept of beauty. Dutch artist, Imme van der Haak likewise produced face-contorting pieces called "Configurations" which explore the idea of normality. While fashionable clothes and shoes can often be uncomfortable to wear (high-heeled shoes and corsets being just two examples), jewelry that is uncomfortable has yet to catch on.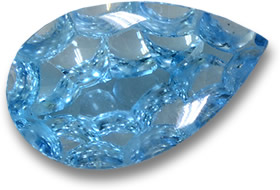 Mixed Fantasy-Cut Blue Topaz Gem
We are always coming across gems that require a new description because the shape or cut does not fit anything that we have seen before (see image, right). German master cutter, Bernd Munsteiner, is famous for his "fantasy-cut" or "concave-cut" gemstones, which are truly in a class of their own. His work took gem cutting to a whole new level in the 1960s and placed it on a pedestal. It was so radically different from anything that had been done before that many were not sure how to categorize it. However, Munsteiner went on to achieve world fame and recognition for his art. One of his best-known pieces is the Dom Pedro Aquamarine, which is displayed in the Smithsonian National Museum of Natural History in Washington DC. Asymmetry is another design aspect that creators of avant-garde jewelry play with. It is generally accepted that symmetry is aesthetically pleasing, so designers like to challenge this idea by producing off-center work, whether this is with regard to the gemstone shape or the whole jewelry piece.
Unusual textures, colors and materials are also explored with innovative new gemstones and metals. For example, to achieve amazing gemstone colors, special treatments are developed, such as coatings that impart a kaleidoscope of color onto the surface of a gemstone. An example of this can be seen in mystic topaz. As well as gemstone colors, metal colors are constantly evolving with new gold alloys which allow almost any color of metal to be possible now. Additionally, coatings, such as black rhodium and patination make it possible to create jewelry with unusual colors and textures. Finally, what constitutes a gemstone and the idea of what is precious is questioned in avant-garde jewelry. Thus, unexpected materials are used to produce jewelry, such as leather, plastic and even glass.
Avant-garde jewelry is for those who like to think and wear things that are outside the box of mediocrity and stand out from the crowd. Avant-garde jewelry may be considered to be art, so is referred to as "art jewelry". Some designers are artists who intend to create something unique and new; and sometimes the designer sets out to make something shocking or a piece that will make people think and challenge established ideas. Other designers simply wish to progress, and modern technology allows for jewelry to continually evolve.