Famous Mothers and Their Jewels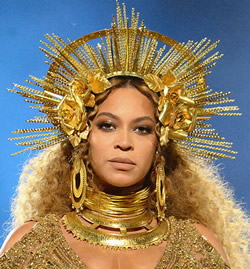 Beyonce at the 2017 Grammys
Let's face it, moms truly deserve our respect. They carry us, clothe us, feed us and love us. Where would we be without them? In celebration of Mother's Day, we present our tribute to two famous moms and their jewels, along with some pearls of wisdom.
Beyonce is known as "Queen Bey" for reigning over the world of pop. She became a mother to daughter, Blue Ivy Carter in 2012 and recently announced that she is carrying twins. She is admired for her beautiful voice, singing success and body confidence. Not just a pretty face, Beyonce is also an advocate for women's rights and co-founded "Chime for Change" along with Salma Hayek Pinault, which promotes a better quality of life for females all over the world. Beyonce has worn various pieces of show stopping jewelry over the years. She recently appeared in a $12 million diamond Y necklace and gave an outstanding performance at the 2017 Grammys in a golden ensemble complete with an African-inspired crown, reminiscent of the Statue of Liberty with a touch of Renaissance (see image, above right). She literally wears the crown.
From Queen to Princess, Diana, Princess of Wales was another famous mother who influenced and impressed many with her charity work in eradicating land mines and supporting those living with HIV and AIDS. Being a true princess, she wore some fabulous jewels, and could be credited with increasing the popularity of colored gemstone engagement rings, thanks to her 12-carat blue Ceylon sapphire halo ring, which is now proudly worn by Diana's son's wife, Katherine, Duchess of Cambridge. As well as being a much-loved humanitarian and member of the British Royal Family, Diana was a graceful fashion icon who often put her own spin on royal jewels. For example, she famously wore an emerald tiara as a headband and converted a sapphire brooch into a choker. Diana's tragic death in a car accident in 1997 sadly snatched her away from us all, but she will never be forgotten, especially by her two sons, William and Harry.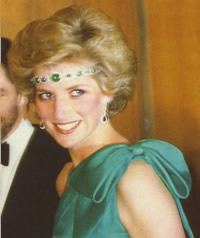 Princess Diana in an Emerald Tiara/Headband
Famous or not, mothers are true life gems whom we salute this month and every day. According to Aristotle Onassis, a famous shipping tycoon who lavished his love on the widowed Jackie Kennedy, "If women didn't exist, all the money in the world would have no meaning." Indeed, Jackie once said, "I am a woman above everything else" and rather appropriately, Mr. Onassis presented a 40.42-carat diamond, known as the Lesotho III, to Jackie as an engagement ring. Although Jackie led a privileged life as First Lady, she put her children first and turned down many official invitations saying, "If you bungle raising your children, I don't think whatever else you do matters much." While we try to find our mothers a well-deserved gift as a gesture of our love and appreciation, nothing is grand enough nor can it be a substitute for precious time spent with loved ones. For it is said by many mothers all over the world that "the most precious jewels you'll ever have around your neck are the arms of your children" (Unknown).