Famous Sapphires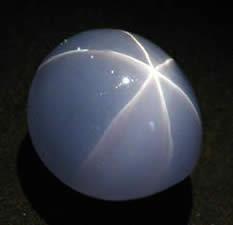 Star of India
Before the development of techniques to facet gemstones, the most valuable gems were sapphires, rubies and emeralds, not diamonds. Colored gemstones of outstanding color and size can be very impressive without faceting; but a diamond does not reveal its brilliance until it is cut in facets.
Some of the most famous sapphires in the world illustrate this point. The Star of India is the largest star sapphire in the world with a weight of 563.35 carats. Discovered in Sri Lanka about 300 years ago, it is now in the American Museum of Natural History in New York. It is grayish blue in color, with a slightly milky quality caused by the presence of the mineral, rutile. The rutile is also responsible for the distinctive star effect known as asterism. Apart from its astounding size, the Star of India is unusual because it has stars on both sides of the stone.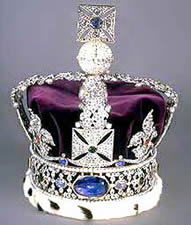 Stuart Sapphire
One of the oldest known sapphires is the 104 carat Stuart Sapphire which dates back to 1214. This fine blue, but somewhat flawed gem passed through the hands of several kings and cardinals before being mounted in Queen Victoria's State Crown. Eventually replaced by the Star of Africa Diamond, the Stuart Sapphire now rests on the back side of the British Imperial State Crown. It is currently on public display as part of the British Crown Jewels in the Tower of London.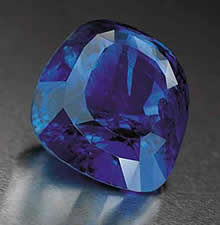 Queen Marie's Sapphire
Among cut sapphires, the largest in the world is known as Queen Marie of Romania's Sapphire, at 478 carats. It combines stunning color with a fascinating history. According to lab reports, it is of Sri Lankan origin and is completely untreated. It was purchased by King Ferdinand of Romania in 1921 for his wife Queen Marie, who was the granddaughter of both Queen Victoria of England and Czar Alexander II of Russia. The sapphire was sold around 1947 and acquired by Harry Winston. The stone is now on permanent display in the Diamond Fund Exhibition, at the Kremlin Armoury Museum in Moscow.