Father's Day Gem Gifts - Keep it Loose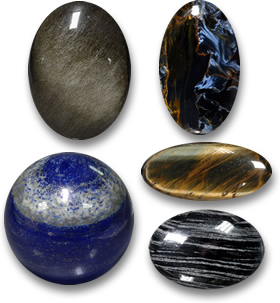 Obsidian, Pietersite, Hawk's Eye, Lapis Lazuli & Jasper
Some of us struggle to produce or buy something for our dedicated dads when Father's Day rolls around. Moms somehow seem easier; flowers and chocolates are always appreciated and most moms are glad to receive gemstone jewelry. But not every man is a metrosexual millennial or a midult interested in fashion. Dads can be pernickety people or simply may already have just about everything they need, apart from a new car, or high-performance gadget which is beyond our price range. We all want to make a gesture to show fathers how much we love and appreciate their being around just as much as Mom, so here are a few ideas for gemstone gifts for dads who do not wear bracelets like Beckham.
Gems for men do not have to be all about jewelry. Men who are just not that into jewelry may not feel comfortable wearing cuff links, tie tacks, rings or necklaces, no matter how customized and special or masculine these jewelry items are. Even Prince William does not wear a wedding ring out of personal preference. Non-jewelry gemstones for men can take the form of gem carvings or loose colored stones. These can be presented as keepsakes, ornaments, curios, collector's items, lucky stones or simply as cool paperweights. After all, what ornament is manlier than a rock!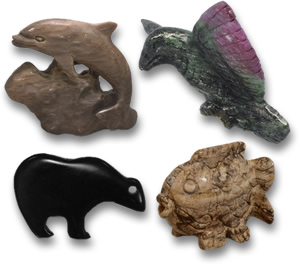 Gemstone Animal Carvings: Tiger's Eye, Ruby-Zoisite and Jasper
If your dad is fond of a particular animal, he might like a carved gemstone animal to keep. These are not only cute and artistic, but are interesting ornaments due to the workmanship and material that they are fashioned from. Many people will not have heard of ruby-zoisite, which is a mix of ruby and zoisite in a single gemstone. This gem type is sometimes carved into figurines that have distinct green, black and pink-red patterns. Gemstone sources are another talking point for carvings. For example, a quartz chameleon from Brazil, an opal turtle from Australia, a tiger's eye dolphin from Thailand or a jasper fish from Indonesia make exotic souvenirs or can form part of a collection for those who have a love of travel or associations with certain places.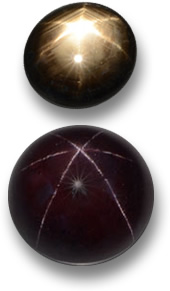 Star Sapphire & Star Garnet Cabochons
Loose cabochons or faceted gemstones make wonderful gifts for collectors, or decorative objects of interest, especially for geologists or fathers who are interested in rocks and minerals. Some gemstone cabochons simply have pleasing colors or patterns that would brighten up a desk, giving a dad something nice to gaze at in his favorite color; for example, lapis lazuli is a beautiful blue color with gold flecks and is admired by all. Gemstones that exhibit unusual optical phenomena, such as star gemstones or chatoyant pietersite are also fun to look at and handle. For dads who are into Chinese philosophy, according to feng shui, certain materials placed in the home or at work are said to bring luck, positivity or balance. Some feng shui practitioners may recommend placing peridot or obsidian in a southern position to increase or balance prosperity and worth, and malachite to the west for good relationship vibes.
If you're all out of ideas, a birthstone is always an option. There are not only official birthstones for each month, but also gems that are assigned to each zodiac sign, allowing for several choices that fit different tastes and budgets. For example, the official birthstone for April is diamond, but the stone for Taurus is sapphire, and May's birthstone is emerald, but Geminis can also choose more affordable agate. Whatever your choice, we're sure that your dad will appreciate it.