Festive Cheer from GemSelect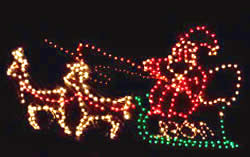 Santa's Sleigh in Lights
With the world preparing for festive celebrations, we at GemSelect would like to wish everyone a Happy Holiday season and spread a little festive cheer to all of our loyal customers who have supported us over the past decade. Wherever you are, we wish you all a joyful holiday time.
Gem trading and producing areas are far and wide, as are the countries that celebrate Christmas and New Year. Some see a blanket of snow, while others may enjoy some sunshine. It's a little hard for those in tropical countries to imagine snow, but every culture celebrates the holiday season in its own way, whether it is a barbeque on the beach or festive lights in a mango tree.
Something we all have in common is counting our blessings and celebrating. Also, at this clear time of year, we can all look up into the night sky and see the stars. Stars are like gems in some ways; they are universal natural wonders that everybody in the world can appreciate, whether old or young, and regardless of culture or religion. Like colored gemstones, stars vary in size and color; hot ones are reddish and cool stars are bluish, and some shine brighter than others.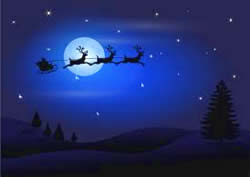 Santa's Sleigh in the Night Sky
During the festive season, nothing excites children like the prospect of a certain special someone traveling across the night sky amongst the shining stars to deliver gifts to special children. Indeed, some adults go to great lengths to ensure that Christmas is magical for the children in their lives. For those who are not familiar with the story, Santa Claus delivers gifts to good children on the night of Christmas Eve. He travels on his trusty sleigh, which magically flies in the night sky pulled by reindeer. In fact, what people believe to be Santa's Sleigh can be seen by lucky sky gazers on a clear night all year round.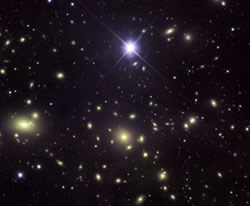 Bright Stars in the Night Sky
For those in the know, "Santa's Sleigh" is actually the NASA International Space Station with an international team of astronauts, which orbits Earth every 90 minutes. It is the next brightest thing as the moon and can inspire wonder in children's faces as they see it go across the sky around Christmas time. The Station can be seen crossing the night sky over Christmas by people in countries all over the world if they look out for it at the right time. With a little imagination, the football-field-sized International Space Station can appear just like a flying sleigh laden down with gifts! Thus, the study of space can help to unite children in their excitement about a special, magical time of year.
As for children asking about how Santa can possibly get into the house to deliver gifts, there are always some inventive stories. For example, one couple were so desperate to keep the magic alive that they put a long stick into an old boot and made muddy footprints on the ceiling near the entrance to the attic. The children's faces were a picture when they saw how messy Santa had been in the morning! In some cases, science may be the answer, but in others, magic provides a certain cheer. Happy New Year!
First Published: March-07-2016
Last Updated: August-17-2017
© 2005-2021 GemSelect.com all rights reserved.
Reproduction (text or graphics) without the express written consent of GemSelect.com (SETT Company Ltd.) is strictly prohibited.