Gemstone Names and Gem Origin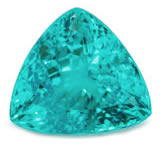 Paraiba Tourmaline
In 1989, an unusual blue-green tourmaline was discovered in the Brazilian state of Paraiba. This tourmaline appeared to glow with an almost neon hue. Analysis showed that this effect was due to the presence of copper and perhaps, manganese. This new variety of tourmaline, which became known as Paraiba tourmaline, caused a sensation in the gemstone world in the 1990s.
In 2001, some similar copper-bearing blue-green tourmaline was discovered in Nigeria. Then in 2005 a third find was made, this time in Mozambique. The Mozambican material is found in a range of colors, from green or blue-green to violet.
The new finds were good news for the gemstone world, but they led to heated controversy over the proper use of the name "Paraiba". Should these new African tourmaline gems be called "Paraiba tourmaline"? Some have claimed that this is a deceptive practice that threatens the honesty of the gem trade. One gem dealer, David Sherman, who invested heavily in Brazilian tourmaline mines, launched a $120 million lawsuit against the American Gem Trade Association (AGTA) and the Gemological Institute of America (GIA) for using the term, "Paraiba" to refer to the new African copper-bearing tourmaline. Sherman was strongly supported in the industry press by the editors of Colored Stone Magazine, but the case was later dismissed.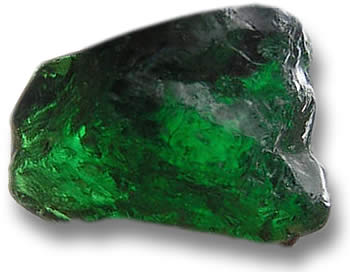 Tsavorite Garnet Rough
The argument was made that only copper-bearing tourmaline from the Paraiba region of Brazil can be called Paraiba tourmaline. It was said that to call Nigerian or Mozambican tourmaline by that name is deceptive, even if the African tourmaline is copper-bearing and displays a similar neon blue or green color. Some said that it is really no different from selling a ruby from Madagascar as "Burmese ruby". This is a deceptive practice and should be prevented if we are to have an honest gem trade.
This sounds like a thoroughly reasonable argument. But it is surrounded by confusion about varietal names and gemstone origin. It also ignores some important facts about the history of gemstone names.
Every distinctive gem variety needs a name. Sometimes a name is officially granted and sometimes it just happens as a result of common usage. The red variety of corundum acquired the name "ruby" long ago. Rubies come from many locations, so we have "Burmese ruby", "Madagascan ruby", "Thai ruby", and so on. These descriptions consist of a varietal name ("ruby") and a geographic origin (e.g. "Burma").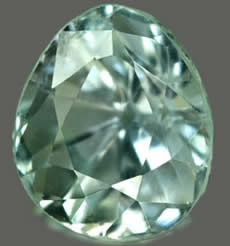 Afghanistan Hiddenite
There is a long history of gem varieties themselves being named after the place where they were first found. Examples include tsavorite (Tsavo National Park in East Africa), andalusite (Andalusia, Spain) and gaspeite (Gaspé Peninsula, Canada). Eventually, specimens of these were found in other locations, but the name connected with the original location stuck. So you can have tsavorite from Tanzania ("Tanzanian tsavorite") and tsavorite from Madagascar ("Madagascan tsavorite").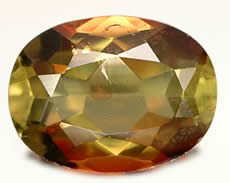 Andalusite Gemstone
The name "Paraiba tourmaline" looks like it has the same form as "Burmese ruby". But it does not. The fact is that "Paraiba tourmaline" has become a varietal name, similar to "ruby" or "tsavorite garnet". One can argue that this was not a good idea, that the varietal name should have been "cuprian elbaite tourmaline," not "Paraiba tourmaline". You might also prefer "chrome grossular garnet" instead of "tsavorite garnet". But once a gem variety has become known under a certain name it can be very difficult to change it. Gemstone names, like so much of our language, are pertinacious.
If there is something particularly special about the Paraiba tourmaline from Brazil - like there is something special about Burmese ruby - we can still refer to it as "Brazilian Paraiba tourmaline". Selling Mozambican tourmaline as "Paraiba tourmaline" is not like selling Madagascan ruby as "Burmese ruby". Though the names look like they have the same form, the semantics are actually very different.