Gemstone Certification
Many buyers of colored gemstones want to buy a certified stone. This is especially wise if you are buying an expensive gem. A proper gem certificate will give you the assurance that you are getting what you paid for. Also, if you decide to sell your gemstone in the future, a certificate of authenticity will simplify the transaction.
However, not all certifications are equal. In fact some are more or less worthless. So here is some information about gemstone certification that every savvy gemstone buyer should know.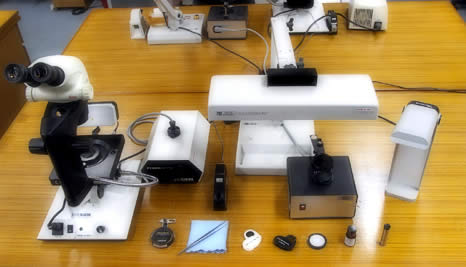 Gem Testing Lab in Thailand
There are two kinds of certification that should be avoided at all costs. One is not really a form of certification at all, but rather a verbal assurance that the gemstone is, say, a natural untreated sapphire. Whether this assurance is provided by the seller or some third party, it is really of no value to you. It doesn't matter if the person providing the assurance is an experienced jeweler or even a graduate gemologist, a verbal assurance is simply an opinion, with no verifiable record of what has been tested.
A certificate provided by the seller is somewhat better, particularly if the seller is reputable and has trained gemologists on staff. But a seller-issued certificate is not an accepted practice in the gem trade. Certification should be done by an independent third party who has no financial stake in the transaction. Be particularly wary of appraisals provided by the seller, which claim that the gemstone you purchased is worth much more than you paid for it.
Many trained gemologists can do gemstone identification, but it is always best to have a gemstone certified at a gemological laboratory that specializes in gemstone testing. The reason is that a gem lab can usually afford to invest in the latest diagnostic equipment, and they have a strong incentive to issue only correct and reliable test reports, since they have a reputation to uphold.
There are hundreds of reputable gemological labs around the world. Some labs are especially distinguished, since they engage in gemological research and are expert in detecting gem treatments. Some of the leading labs now try to certify the origin of gemstones as well. But it is not usually necessary to have your gem tested at one of the world's leading laboratories - it can be very expensive, and the new techniques they develop are soon disseminated to other labs around the world.