Gemstone Hair Accessories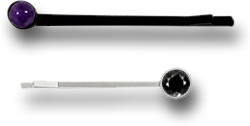 Simple Hair Clips with Amethyst and Black Tourmaline Gems
In this day and age, there is no need for scrunchies or plastic clips; there is a whole world of jewelry for the hair. Hair accessories can be merely for decoration or functional. Contrary to popular belief, not all hair jewelry requires long hair or a certain style. Gemstone hair accessories range from subtle accents to full-on bling. Let's explore some of the options for ladies who like to accentuate their crowning glory with gems.
For a subtle style that can be worn in long or short hair, a gemstone clip is a good choice. The most simple is a clip that is studded with just one or more gemstones (see, image above). These can be worn casually or for special events. Bolder clips have large gemstones, clusters of colorful gems or pavé gems in a large design, such as a bow or a flower. Barrettes that are used to secure long hair can also be simply studded with a few choice gems or they may be large and colorful with eye-catching designs. Barrettes are a little like brooches for the hair in their design.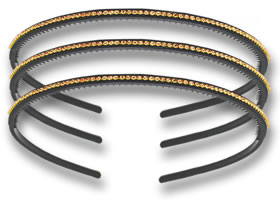 Citrine Gemstone Hairbands
For those who like something a little larger, a band is a good idea. These can also be worn with hair of any length because they generally clip over the head behind the ears and do not need a lot of hair to hold them in. Bands can be narrow or wide, slightly embellished or completely glittering with gems. An advantage of a head band is that the hair does not need to be styled to wear one and it helps to neaten the appearance with very little effort. Wide headbands became popular during the 1980s, but now there are many more styles, such as narrow metal embellished headbands that add a touch of glamour to an everyday hairstyle (see, image above left).
Hair chains are best suited to long hairstyles. These can be like a band but usually sit nearer to the front of the head and sometimes across the forehead. Some hair chains have an elastic band across the back which is worn under the hair. Bands can have dangling parts in the middle of the forehead and may have cascading chains that drape over the back of the hair for a 1920s flapper or bohemian look. Indian style hair chains tend to have a central chain that sits in the middle parting of the hair and stabilizes the piece. Both the Indian and bohemian style hair chains are quite bold and take a certain look to carry off. A way to use a chain without looking like a hippie or Hindu is to use a clip that has a chain attached. This has a more urban style and can be worn in several hairstyles rather than requiring a central parting, which does not suit everyone.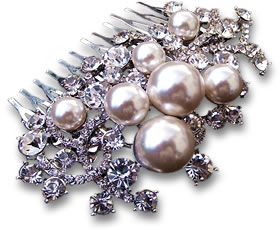 Hair Comb with Pearls and White Gemstones
Longer hair is required for things that sit in the hair such as pins, sticks and combs. Pins and sticks can really accentuate long hair that is swept up. Such accessories may feature one or two gems that are static, but some of the most attractive ones have cascading colored gems fixed to dangling chains that allow movement and glitter in the light. These kind of hair ornaments were worn by the ancient Chinese and the Geisha of Japan, along with beautiful combs. Some extremely elaborate ancient Chinese hair pins were made from gold and embellished with gemstones such as pearls and jade.
More serious headgear that stands out to be noticed includes tiaras, crowns and wreaths. Such hair accessories tend to be worn by brides and are typically adorned with pearls and white gemstones. These larger items can also be worn on other special occasions. If a tiara or crown seems a little too much, there are also many clips, combs and headbands that are easier to wear and just as impressive.
There are jewelry items to suit every person and occasion and the choice of hair accessories is equally diverse. For those who would like to add a little touch of glamour to their style, a gemstone hair ornament is worth considering. Whether for everyday wear or a special celebration, gemstone hair accessories accentuate the hair perfectly.