Happy Father's Day and Gems for Men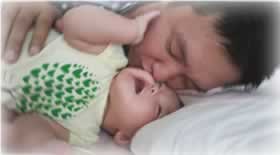 A Loving Father and Daughter
This month on 21st June, it is Father's Day; a time for us to show some appreciation for our fathers and what they've done for us. The gemstone industry tends to focus on ladies, so we would like to make men the center of attention and present some gems for dads. With the wide variety of colored gemstones available, there is something to suit every man. Depending on how the gems will be worn or what is preferred, a gem may be various different shapes, and faceted or cut en cabochon. Therefore, we would like to introduce some faceted gems and some cabochons that are men's favorites.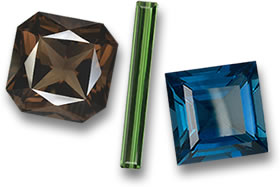 Smoky Quartz, Green Tourmaline and London Blue Topaz
When it comes to faceted gems, smoky quartz is an attractive and affordable option. We have recently acquired some nice smoky quartz gems that would look great in a ring or as a matching pair of cufflinks. These can be found as faceted gems or cabochons of various shapes. As for pendants, long, green tourmaline gemstones would look great on a necklace pendant, with a silver or gold chain. These can be found in a range of sizes and prices, and from medium green to deep green colors. When it comes to rings, a square London blue topaz would be a good choice for a man. These are a nice deep shade of blue and are available in large sizes at reasonable prices.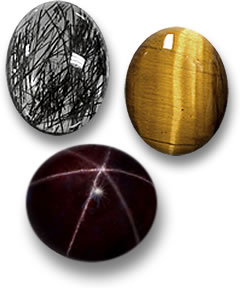 Black Rutile Quartz, Tiger's Eye and Star Garnet
Black rutile quartz is an affordable cabochon gemstone that has a unique look. We have acquired some matched pairs, which would make great cufflinks, and single gems that would be perfect for a necklace pendant. Tiger's eye is a classic men's gem that is perfect for rings, necklace pendants, bracelets and cufflinks. Star gemstones are often used in men's cabochon rings. When they are tilted back and forth in the light, a star can be seen to move across the surface of the gem. There are many star gemstones in various colors, such as blue star sapphire, black star sapphire and deep reddish star garnet. Star gems look great in rings because the hands move a lot, allowing the star gems catch the light and show off their asterism.
The above gems are by no means a complete list of jewels worn by men, but are merely a few suggestions. There are many more gems for men, such as lapis lazuli, jade and sapphire. Whether the men in your life are gem lovers or not, we wish you all a very happy Father's Day.