The Legend of Capricorn and Zodiac Stones
People born between 22 December and 19 January belong to the zodiac sign of Capricorn, the history of which is thought to date back to Babylonian and Sumerian times when astrological charts and mythical creatures were documented.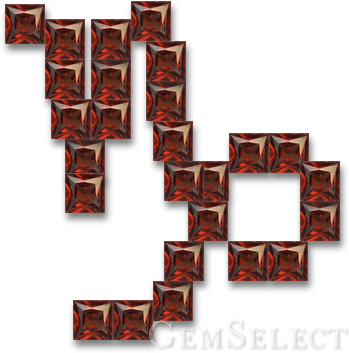 Symbol for Capricorn in Princess-Cut Pyrope Garnet
The ancient Greek astronomer, Ptolemy identified a constellation in the Southern Hemisphere called Capricornus because its shape resembled a goat. In ancient Greece, the mythical goat creature that represents the zodiac sign of Capricorn was associated with Pan, the Greek god of nature, who was part human and part goat. Incidentally, the word "panic" comes from the loud sound Pan emitted and "panpipes" also take their name from a Greek myth concerning Pan's pursuit of a nymph. In another legend, Pan turns his lower body into a fish to hide in a river and escapes Typhon. Pan helped Zeus during his battle with Typhon and was rewarded by his image appearing in the sky as the Capricornus constellation.
In modern astrology, the zodiac is the starry region that is divided into 12 constellations; each being represented by a sign. Capricorn is an earth sign symbolized by a goat or a goat with a fish tail, and is said to be ruled by Saturn. Those born under the sign of Capricorn are said to be responsible, dependable, ambitious, self-disciplined and determined. On the other hand, Capricorns are also sometimes described as stubborn, pessimistic and arrogant. If you happen to know a Capricorn intimately, you may be able to either verify or vilify this.
Epidote Goat Gemstone Carving
The lucky color for Capricorns is brown and the gemstone for Capricorn is ruby. Birthstones for Capricorns born in December are turquoise, blue topaz, tanzanite and blue zircon. These blue stones have a fantastic range of colors; from soft, robin egg blue to brilliant blue, violet-blue, greenish-blue and deep blue stones. Those Capricorns born in January have an even wider choice of colored stones, since gorgeous garnets are their birthstones. While red garnets are the best-known of this diverse gemstone group, there are actually many different garnet varieties and colors, including golden Mali garnet, pink-orange malaya garnet (also sometimes called "imperial garnet"), green demantoid and tsavorite garnet, orange spessartite and hessonite garnet, and even color-change garnet.
Whether you are a Capricorn or know one, we hope you liked learning about the legend, the zodiac sign and the constellation. According to astrology, Saturn will enter Capricorn on December 19; in astronomy, the sun will transit the goaty Capricornus star constellation from January 19 until February 15, 2017. Happy Holidays to all Capricorns, their family and friends!
First Published: December-06-2017
Last Updated: December-06-2017
© 2005-2021 GemSelect.com all rights reserved.
Reproduction (text or graphics) without the express written consent of GemSelect.com (SETT Company Ltd.) is strictly prohibited.